All cities and dates
GET YOUR EARLY BIRD TICKETS NOW!

Local presale
Tickets will be available from the beginning of August at our presale partners.
Annotations
Again we present together with adidas TERREX the EOFT program via the GRETA APP more accessible! More info: www.gretaundstarks.de
Our local partner / ticket agency
Feinbier unterwegs – der größte Outdoor-und Bergsportausrüster in Siegen

Die feste Adresse für die Beratung und den Verkauf von Outdoorbekleidung und Outdoorausrüstung in Siegen.

Doch nicht nur für Aufhalten und Bewegen in der wunderschönen Natur der Mittelgebirgsregionen von Siegerland, Sauerland, Westerwald und Bergisches Land bietet Feinbier unterwegs die passenden Produkte, sondern die Ausrüstungs-Experten sind in der ganzen Welt zuhause.
Ob Südsee-Inseln, die Gipfel der Alpen, das winterliche Fjäll Skandinaviens, die sturmumtosten Gipfel Patagoniens, die menschenleeren Regionen Nordkanadas – das Team von Feinbier unterwegs weiß was man braucht um "UNTERWEGS" zu sein.

Nach An-und Umbau bietet das führende Geschäft für Outdoor-Ausrüstung in Siegens Sandstrasse, nun auf über 1000 m2 eine umfassende Auswahl an Produkten für Draußen. Zelte und Schlafsäcke, Taschen und Rucksäcke, Klettergurte und Karabiner, Hüte und Mützen, Schuhe und Kleidung zum Wandern, Trekking, Klettern, für Sonnenschein und Regenwetter, GPS-Geräte, Beachwear für die Reise – all das wird in dem neuem, hellen, offenen Fachgeschäft angeboten.

Mitarbeiterinnen und Mitarbeiter des Teams sind selbst begeisterte Sportler und Naturliebhaber. Das kompetente Team kennt auch Tipps und Tricks die selbst das Internet nicht so ausführlich kennt.
Feinbier unterwegs KG
Sandstr. 22
57072 Siegen
Germany
Directions via Google Maps

+49 271 22882
www.feinbier-unterwegs.de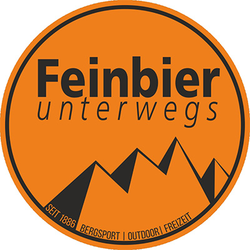 Venue
Siegerlandhalle-großer Saal
Koblenzer Straße 151
57072 Siegen
Germany
Directions via Google Maps


www.siegerlandhalle.de

Admission: 19:00